Acupuncture: What is It?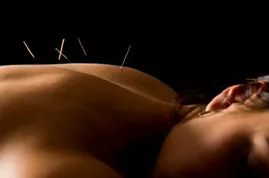 Acupuncture is an ancient healing technique that utilizes very thin metallic needles to balance the body's internal energy or Qi (Chee). It works by stimulating the autonomic nervous system, which governs the healing and regeneration of every living cell in the body. It also triggers the release of endorphins, the brain's pain-stopping hormones. Acupuncture can increase blood circulation, relax muscle spasms, reduce pain and stimulate nerve activity. Needles are used to direct the flow of the body's energy ("Qi) so that blockage, excess, or deficiency may be balanced, and health restored.
What is Cosmetic Acupuncture?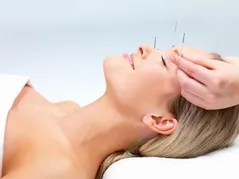 Cosmetic acupuncture is a non-surgical treatment which reduces the signs of aging, restoring the brilliant glow of youth which seems to elude us regardless of how many products or procedures we apply to our skin. That glow and vitality reflect the innate health and radiance of body, mind, and spirit - and can only be achieved by treating the whole body. Not only cosmetic acupuncture a safe and effective alternative to invasive cosmetic procedures, it's possibly the only cosmetic treatment which actually improves overall health.
Cosmetic acupuncture uses tiny needles on the face and body to enhance and renew your looks. Based upon the same principles of Oriental Medicine that allow acupuncture to treat a variety of pain and internal conditions, cosmetic acupuncture can provide a pain-free and natural way to reduce the appearance of wrinkles and support a healthy complexion.
How Does it Work?
Cosmetic acupuncture for facial rejuvenation works by balancing the functioning of the body and encouraging the flow of blood and energy to the face. From the physical constitution and lifestyle, the flow of energy in the body can become disrupted leading to a state of disharmony; these imbalances can manifest in the complexion and skin health. By supporting a healthy mind and body, you can improve the appearance of your face in a manner that you can both see and feel.
During the cosmetic acupuncture treatment for facial rejuvenation, thin sterile needles will be inserted into the face and body to adjust the flow of energy. Additionally, these facial needles are able to increase the tone of the facial muscles, pulling the skin tight and flattening wrinkles. The local insertion of needles into the superficial layers of the skin has been shown to increase collagen production in the local area providing the skin great elasticity and a more youthful appearance. There is usually no pain and only a mild distending feeling at the sites of needles insertion during the treatment.
If you are interested or have any questions, please contact the office to schedule a consultation and for additional information.